RIDGA v2 - For MiniSB
When assembling an extruder, the sequence of component insertion of the RIDGA differs from the multi-piece version of the classic BMG main drive gear assembly. The drive gear section of the RIDGA can't be inserted before the gear shaft because it is integrated. Needs a wider hole to pass through.
The Open Source extruder you printed may likely need a custom integration design to support the OEM RIDGA.
Please contact the designer or author of your extruder, or consult within its community, to get help with this.
With an integral bondtech drivegear, and much better runout specification/tolerance, these have been shown to significantly improve layer consistency.
Reduce the runout of the main drive gear on your Dual Drive extruder.
A very solid, reliable and improved solution from Bondtech that provides a slight improvement to the print surface quality.
Designed for the following Open Source extruders:
HextrudORT;
Sherpa Mini;
Voron Mini StealthBurner.
Why a V2?
The OEM RIDGA V2 allows for ideal engagement between main gear and an 8T or 10T motor gear, while retaining a safe distance between the stepper motor and gear assembly.
This RIDGA, Reverse Integrated Drive Gear Assembly, replaces the following mini drive train items:
Main shaft;
Main gear;
Set screw;
Primary drive gear.
Technical Specification
Shaft length: 26.6 +0/-0.05mm
Shaft length to support ball bearings : Main Gear side < 2.6mm - 2.8mm > drive gear teeth side
Filament teeth's center to end of shaft : Main Gear side < 12.8mm - 13.8mm > drive gear teeth side
Number of drive gear teeth : 17
Drive gear teeth length : 4mm
Integrated drive gear Material: Hardened Steel
Materials Compatibility:
Flexible : yes;
Rigid : yes;
Abrasive : yes.
Number of main gear teeth : 50
Main gear teeth length : 3mm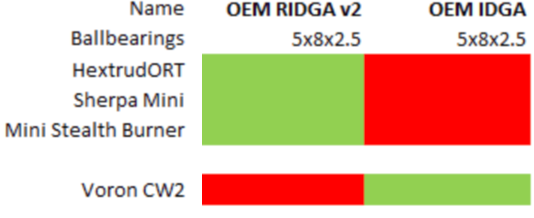 For Sherpa Mini, Print this centre part and the rest stock parts:

https://github.com/Annex-Engineering/Annex-Engineering_User_Mods/blob/main/Extruders/Sherpa_Mini/Extruder_Mods/Churls-Mini_RIDGA/STLs/Bondtech%20RIDGA/RIDGA_sherpa_mini_housing_core.STL
Bondtech RIDGA v2
Product Code: BondtechRIDGA v2
Availability: In Stock
£15.95

Ex Tax: £13.29
Price in reward points: 1595
Related Products