Note: Rev1/Rev2/Rev3 have a strange wire order for the steppers, as detailed on the left below. This is reflected in the Github wiring diagrams at time of writing (06/03/2023), and the photo showing the CW2 stepper wiring order. There is also a Rev4 about that "fixes" it (right below), but this breaks compatibility with Rev1/2 and is then not a dropin replacement. At the current time, all the boards I have in stock are the "left" order. There are no other changes from Rev3 to Rev4.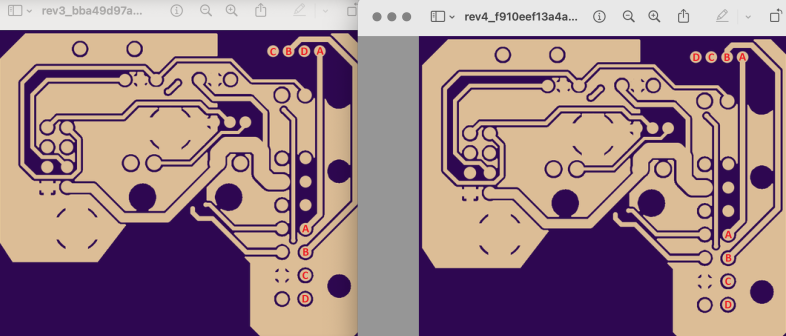 This two part PCB has one section mounted under a flap on Clockwork2, and the 2nd part mounted to the back of Stealthburner. You will need to solder the fan and LED wires to the 2nd part.
Now with the option for dupont connectors on the 2nd piece.
This means that you can pull stealthburner away and detach the fans and LEDs, no trailing wires to disconnect. I just think it looks neat!! :D
Github Link: https://github.com/VoronDesign/Voron-Hardware/tree/master/Stealthburner_Toolhead_PCB
Comes with all the connectors and crimps.
Clockwork 2 / Stealthburner 2 piece Hartk PCB
Product Code: 2PCW2PCB
Availability: In Stock
£14.94

Ex Tax: £12.45
Price in reward points: 1495
Related Products